DS90 Video Production Packages: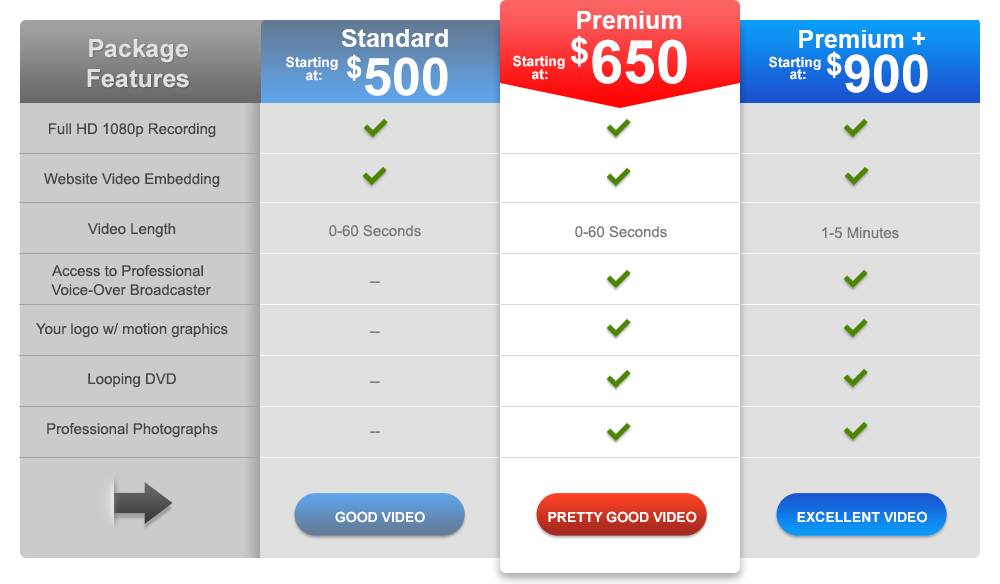 Definitions:
Full HD 1080p Recording: All videos are recorded and produced with a 1920 x 1080 progressive resolution. Perfect for online streaming on any flash player (Youtube, Vimeo, ect).
Website Video Embedding: Not only will DS90 Media create a video for you, but also get it on your website's home page or any page you would prefer it on.
Video Length: The length of the finished project.
Access to Professional Voice-Over Broadcaster: DS90 Media has access to professional broadcasters that can give your video a professional narrative touch.
Your logo w/ motion graphics: Brand your business professionally with the use of motion graphics. Get your logo transitioned at the start and/or end of the video
Looping DVD: DS90 Media will create a provide you with a DVD that plays your video over and over again automatically. Ideal for videos in a store, or a trade show booth.
Professional Photographs: While shooting the video, DS90 Media will also take professional photographs of the project itself. Product photos, store photos, and more.